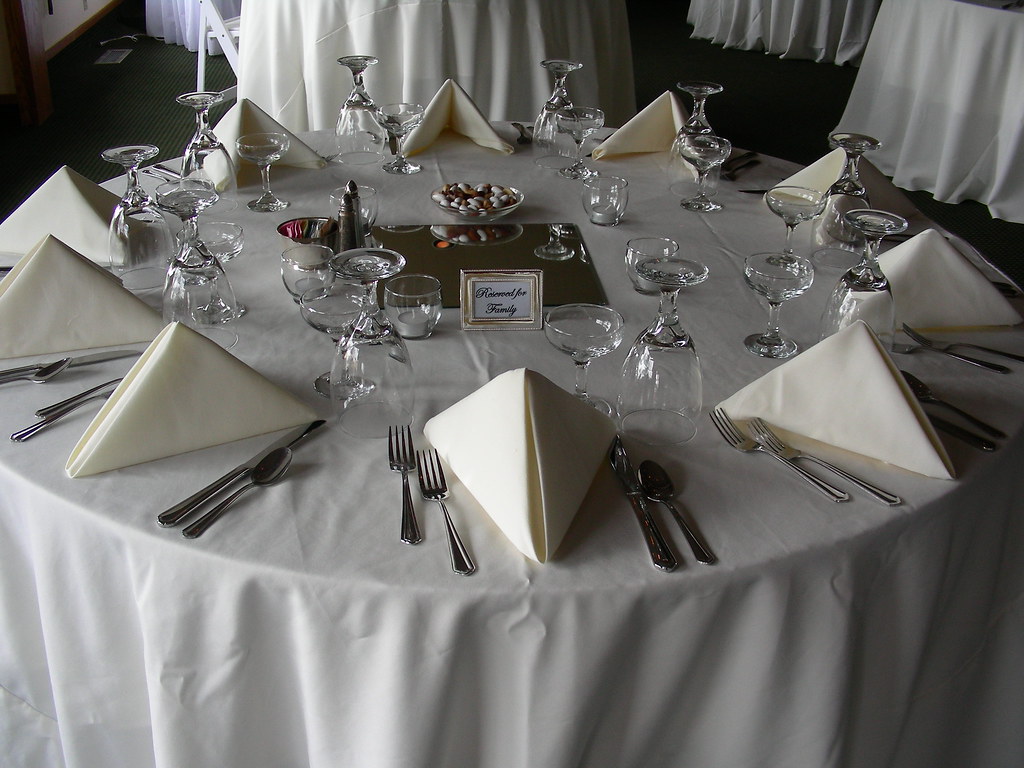 It only takes a little effort to make an occasion special. It's the small touches that turn a normal dinner into a memorable meal. Decorating your dining room table is quick way to transform a room and welcome guests.
With the right colors and accents, you can make a regular weeknight dinner feel like a special occasion. Just with a cloth napkin, a table feels formal, ready for a big holiday meal with family or romantic evening with your spouse. It's easy to add a special touch to your table with placemats and napkins.
The first step to decorating your dining room is selecting a tablecloth.
Try picking a color or pattern you feel appropriate and layering with coordinating pieces.
It's with the seemingly small accents, like placemats and napkins, where you can get really creative and make the perfect setting for your meal. Theses pieces come in colors and patterns to complement any personal style.
Our Plum Flora collection is beautifully accented with taupe, green and a touch of mauve. It's an elegant pattern to match with sage curtains or walls. The rich jungle blooms make soft, but rich design. We like accentuating this collection with sage Aged Wooden Tray as a table centerpiece, simply place a few candles or tea lights in the tray to generate instant ambiance.
Prefer something simpler?
We love the elegant pattern of the Mandarin Lapis' Asian-influenced floral design. The classic crisp white and royal blue color combination is timeless. It's perfect for a sun-dappled morning brunch or a romantic Italian dinner for two.
The Mandarin Lapis Placemat is also reversible, revealing a medallion pattern on one side and a floral on the other. For extra dimension, try layering the placemat with the Essentials Placemat in Lapis or Neutral.
There are many stylish coordinates in this collection to embellish your dining room table, like the striking medallion napkin ring.
Or maybe our Palazzo collection is more your style. This collection features a neutral palette and a Jacobean floral design that's both soothing and warm. The Palazzo placemat is reversible, with plenty of opportunities for variation and layering. One side features the primary floral pattern in colors of soft cream, charcoal grey, gold, taupe and beige.
The reverse side displays a simple leaf and vine design in a tonal palette of soft cream and beige. Consider pairing the placemat with the reversible Palazzo Table Runner, coordinating cloth napkins and leaf vine napkin ring.
You can add some juxtaposition against the floral design of the Palazzo pieces with the geometric Chevron Hurricane candle holders to add interest. We like layering the patterned and solid fabrics for updated tabletop style.
The decorating opportunities are endless. Creating a lively, personalized dining room table is simple with so many coordinates to choose from.
Sometimes you just want something simple and classic.
Clean, sharp colors can make a very modern table. Maybe you're planning a big holiday meal, or need accents that mix and match easily. Our Essentials collection of napkins and placemats are solid color pieces perfect for such occasions.
They come in a variety of bright and muted shades like Pistachio, Stone, Teal, Spa Blue, Brown and more. They coordinate with patterned tablecloths and other decorative pieces on our site. But the most important part of decorating your table isn't color or matching—it's about creating an inviting atmosphere to welcome your guests.
Whether you're seating two or twenty, the right accents and décor can make any meal feel intimate. Stop dreaming and starting creating the perfect dining room table for you!…