There are endless ways to style your home. But often, windows are neglected. Even a well-decorated space can feel naked without the right curtains. One element that universally flatters any decor is natural sunlight. Have you given thought to your windows? They are a natural focal point to any room, creating dimension and space.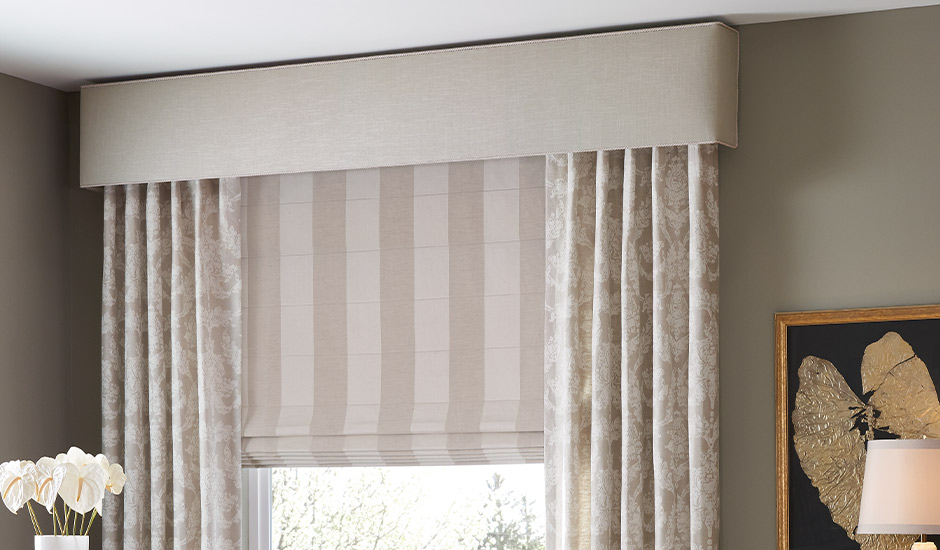 Using curtains or valances accentuates natural light and provides your windows with the decorating attention they deserve. Luckily, there are many decorative curtain and valance options for your windows that can complement your personal style.
With the right fabric, color, and pattern you can use curtains or valances to create everything from cozy privacy to welcoming energy. The large fabric swatches are great place to inspire a color palate or finesse a decorated space—the possibilities are limitless.
Valances Add Unique Color and Style
Curtain valances are a stunning and simple way to add a splash of color to any space. It's easy to refresh your décor with the Mandarin Lapis Medallion Valance curtain. The sophisticated blue and white medallion pattern was inspired by the designer's own chinoiserie ginger jars. The Asian-influenced floral is a chic palette inspiration for a sunny kitchen nook or dining room.
Valances allow for maximum sunlight. This valance also coordinates perfectly with the other pieces in our Mandarin Lapis collection, including placemats, runners and pillows. Try highlighting the pattern even more with a blue or white vase in your windowsill. This classic color combination is timeless and functions well with many décor styles.
Looking for a valance with more warmth?
Perhaps our Palazzo Lined Wave Valance curtain is more suited to your taste. It features a Jacobean floral print in sunny gold tones. It's a neutral that mixes well with other warm colors to create a welcoming addition to your foyer or living room. Try matching it with soft cream, charcoal black, gold, taupe or beige accents to bring out a fuller palette. Valances work well for areas that require little coverage from the sunlight. The wavy shape is bright detail that does not go unnoticed.
This valance gives any space a bright and airy feel, reminiscent of a sunny, spring day. Take your dining room to the next level by harmonizing the Palazzo valance with collection coordinates like our reversible placements or table runners. We love pairing the Palazzo collection with bright yellow flowers to make your home feel like spring year round.
Curtains Help Balance Light and Privacy
But perhaps you are decorating a room that needs more sunlight coverage. To maintain privacy while maximizing light, curtains are the answer. Drapery panels create a big impact to any room. The Malachite Garden Grommet Drapery Panel brightens any space with lush, botanical leaves in shades of green and turquoise. The cream backdrop blends beautifully with other neutrals. Try them open to capture light, or close them for privacy in any bedroom. Looking for a statement piece? Using large swatches of color can transform a room and even become the inspiration for your décor. Our Moroccan Paisley Grommet Drapery Panel is a deep chocolate brown that makes a bold impression. This lovely paisley pattern was inspired by the color of spices, blending emerald green and dijon yellow. The bright chevron and zigzag accents create a unique fabric perfect for a cozy living room. It's easy to create a custom look with any of our Moroccan Ikat coordinates.
Curtains and drapes are the perfect finishing touch to any room in your home. They're often the last element added to a space, but their effect can be dazzling. Whether you're using curtains to maximize sunlight or create privacy, window treatments are a simple and essential part of decorating to make your house a home.